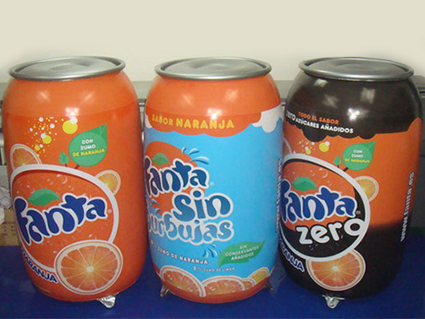 PVC Inflatables for BTL (Below The Line) Activities Inflatables for point of sale can be suspended in store, be ground standing or incorporated in a window display creating maximum awareness of your brand. The power of having your brand represented as an inflatable product replica cannot be under-estimated, it will provide a constant reminder of your product. Small PVC inflatables are very effective marketing tools displayed at the point of sale locations to trigger product/brand recall culminating all the mass communication effort into sale. The eye-catching design possibilities of small PVC inflatables clubbed with its inherent ability to enhance GRP and represent products and their attributes in the true sense and makes them an extremely effective medium at a relatively low cost. These inflatable product replicas are ideal for super markets, convenient stores, malls, retail locations, kirana stores and promotional events.
Can be made in any shape — limited by the complexity and size of the product
Recommended size — 1-3 feet. Can also make in 1-5 feet Highly durable & can be easily wiped clean with a wet cloth when covered with dust.
One-time-inflation. Inflate them only once and use them for months
Minimum order size is 500 units for simple shapes but for product replicas the MOQ is 3000 units. However, higher quantities would lower the price per unit.
Frequently Asked Questions
Reach Us
Andheri West, Mumbai, India
Tell no:-
9820087821, 8169938061, 8291417113
Whatsapp:-
9820087821
Email:-
chetan@shapesinflatables.com
Skype:-
chetansaigal